Blockstream Jade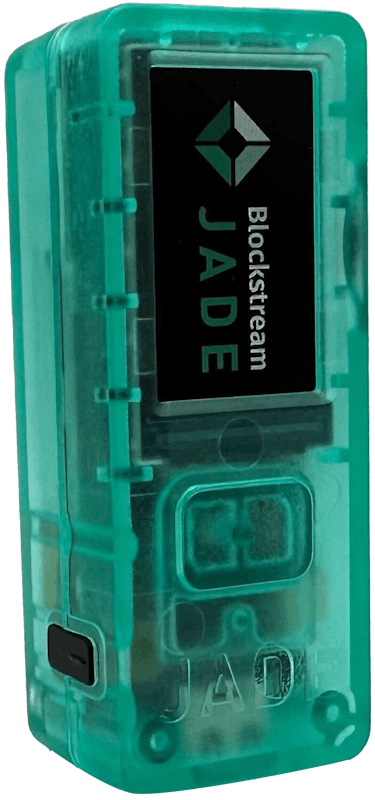 Blockstream Jade
New stock is being delivered to our warehouse. Estimated delivery date:
1-10 business days
In stock
Ordered before 23:59, shipped this weekend
Ordered before 23:00, shipped the same day
Ordered before 17:30, shipped the same day
Do you need advice from crypto experts?
We're specialistst in the field of crypto and wallets.
Hardware wallet selection tool
This tool will advice you the best hardware wallet to fulfil your needs.
Crypto 1-on-1
A private session of one hour with a crypto expert to guide you.
Customer service
Find an answer in our FAQ's or contact our customer service.
Customers rate us a 9.3 (3784 reviews)
Customer support by experts
Product description
The Blockstream Jade is an easy-to-use, purely open-source hardware wallet that provides advanced security for your Bitcoin and Liquid Bitcoin (L-BTC) assets.
The Blockstream Jade is a relatively new product among hardware wallets. The wallet is issued by Blockstream. This is a leading bitcoin company led by renowned cryptographer Adam Back.
Which coins can be stored on the Blockstream Jade?
Bitcoin and Liquid assets.
Blockstream Jade is the only hardware wallet that currently supports Liquid assets. Liquid assets, in turn, are tokens issued on the Liquid Network. Liquid assets include Liquid Bitcoin (L-BTC) and Issued Assets.
The Liquid sidechain is linked to the Bitcoin blockchain, but has a different consensus mechanism and trust model. Among other things, it offers more privacy, lower transaction costs and new functionality such as token issuance. Those Liquid tokens can be managed with Green wallet and Jade.
Many Liquid tokens, by the way, are not there yet. At the time of writing, these are: Bitcoin Mining Note (BMN), Infinite Fleet (EXO) and SideSwap (SSWP). There are also implementations of stable coins on Liquid.
Features
The Blockstream Jade has the following properties:
Depth: 17mm
Width: 24mm
Height: 60mm
Bluetooth: yes
Camera: yes, for full air-gapped transactions (i.e. without using radio frequencies or physical connection)
Screen: 1.14-inch IPS LCD display, 240×135 RGB 16-bit, full color with QR code support
Battery: 240 mAh
USB port: USB-C®
Works with
It is recommended to use Blockstream with the Blockstream Green wallet. But the device also supports other popular wallets such as BlueWallet, Sparrow, Electrum, Specter, Nunchuk and more. Jade can be used with Blockstream Green on:
Android
iOS
Windows
Mac
Linux
Standard included
The following is included in the box:
Blockstream Jade
USB Type-C to USB Type-A cable
Recovery sheets (paper to write your 24 words on)
Quick start guide
Blockstream sticker
Properties
Smartphone
Android and iOS
Desktop
Windows, macOS and Linux
Connecting
Bluetooth and USB-C
Supported coins
Bitcoin