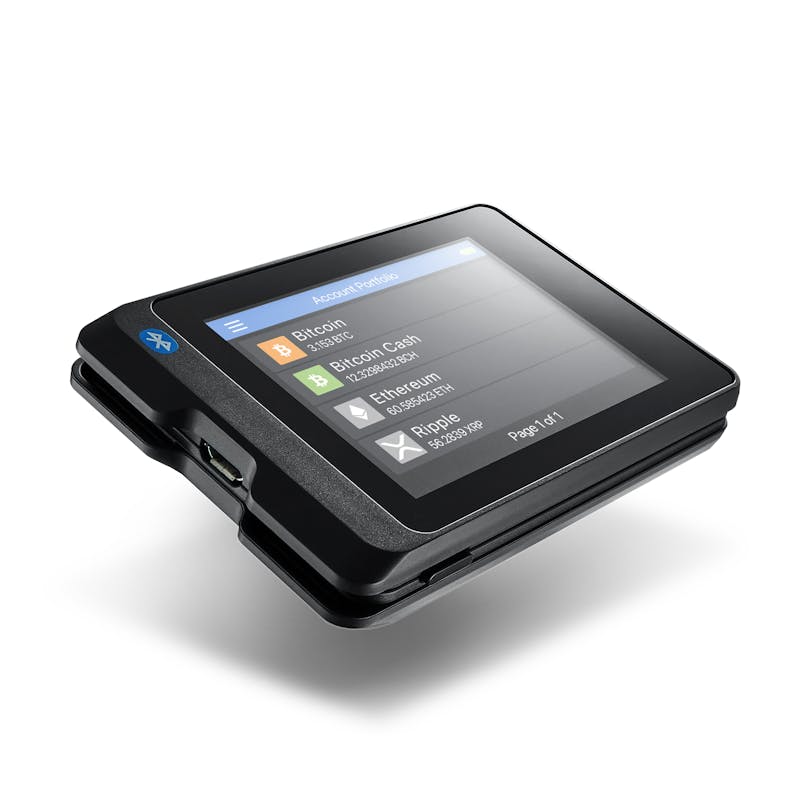 Offer
In stock
Ordered before 23:59, delivered free of charge on Monday
Ordered before 23:30, shipped the same day
Ordered before 17:30, shipped the same day
×
New stock is being delivered to our warehouse. Estimated delivery date:
1-10 business days
Product description Secux W20
The great thing about the Secux W20 is that you can use it on both your computer and your phone. This wallet works with Windows, Mac OS, Linux and Chrome OS on the computer and with iOs and Android on the phone. With the wallet you'll receive a micro USB-cable which connects the W20 with your device. You can also connect it via Bluetooth. With the built-in battery it allows you to use the wallet outside your home.
The big screen creates overview and prevents you from making mistakes. For example, you can use the large screen to properly double check your receiving address while confirming it. The large screen is also useful when setting up your W20. During the process, the W20 generates your recovery seed (24 words). It is extremely important you write it down correctly. The large screen can you help you with this.
The W20 allows you to store Bitcoin, Ethereum, Dogecoin, Ripple and other well-known cryptocurrencies. In addition, tokens from the ERC-20, BEP-20, TRC-10 and TRC-20 chains can also be securely stored with a W20. The built-in CC EAL5+ certified security chip keeps your cryptos safe on the blockchain.
There is a security seal on the packaging and on the product. This way, you can tell if someone has opened the packaging or the W20. If this is OK you can just pull the seal off.
Do you find the Secux W20 an interesting hardware wallet? Chances are you'll find the Secux V20 even more interesting.
Works together with
Works on Mac OS 10.13.6 or higher, Windows 10, Linux or Chrome OS
Works on iOS 12 or higher or Android 6.0 or higher
Specificaties
Security chip CC EAL 5+ certified
Seize: 89 mm x 59mm x 13mm
Weight: 62 grams
Micro-USB port
Included
This product contains:
Secux STONE W20
USB cable
Pouch
Manual
Recommended products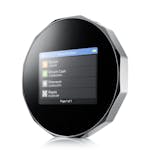 Secux V20
In stock
Ordered before 23:59, delivered free of charge on Monday
Ordered before 23:30, shipped the same day
Ordered before 17:30, shipped the same day
×
New stock is being delivered to our warehouse. Estimated delivery date:
1-10 business days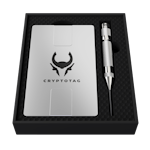 CRYPTOTAG - Zeus Starter Kit
In stock
Ordered before 23:59, delivered free of charge on Monday
Ordered before 23:30, shipped the same day
Ordered before 17:30, shipped the same day
×
New stock is being delivered to our warehouse. Estimated delivery date:
1-10 business days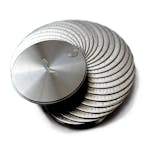 Hodlr Disks Classic
In stock
Ordered before 23:59, delivered free of charge on Monday
Ordered before 23:30, shipped the same day
Ordered before 17:30, shipped the same day
×
New stock is being delivered to our warehouse. Estimated delivery date:
1-10 business days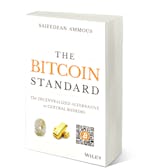 The Bitcoin Standard (EN)
In stock
Ordered before 23:59, delivered free of charge on Monday
Ordered before 23:30, shipped the same day
Ordered before 17:30, shipped the same day
×
New stock is being delivered to our warehouse. Estimated delivery date:
1-10 business days