Trezor T + CRYPTOTAG Thor
price reduction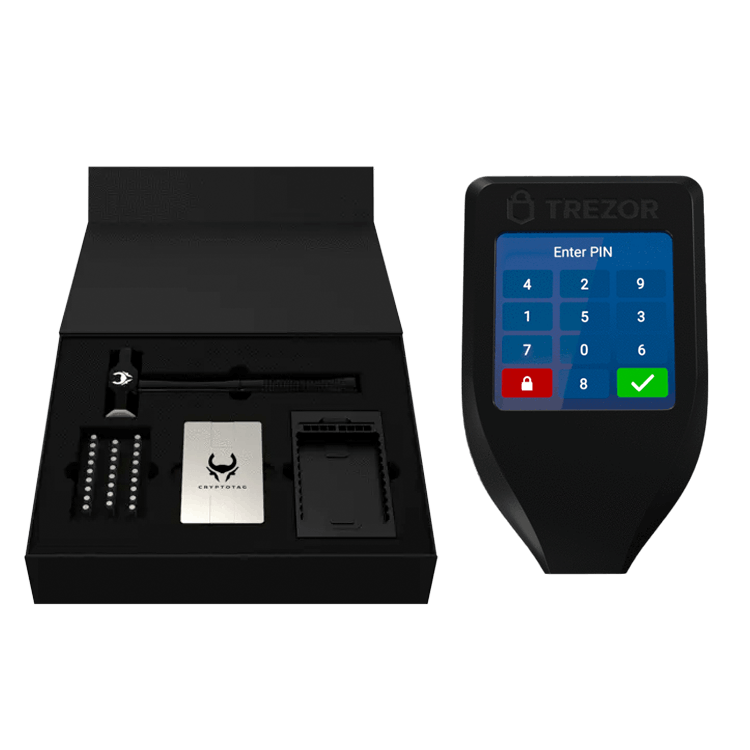 Trezor T + CRYPTOTAG Thor
579,90
(recommended price)
New stock is being delivered to our warehouse. Estimated delivery date:
1-10 business days
In stock
Ordered before 23:59, shipped this weekend
Ordered before 23:00, shipped the same day
Ordered before 17:30, shipped the same day
Do you need advice from crypto experts?
We're specialistst in the field of crypto and wallets.
Hardware wallet selection tool
This tool will advice you the best hardware wallet to fulfil your needs.
Crypto 1-on-1
A private session of one hour with a crypto expert to guide you.
Customer service
Find an answer in our FAQ's or contact our customer service.
Official TREZOR reseller
Customers rate us a 9.3 (3784 reviews)
Customer support by experts
Product description
This bundle combines the latest Trezor Model T with the safest way to store your private key. Use CRYPTOTAG Thor and store your 24 words on titanium plates for all eternity. The Model T is the latest model issued by the famous SatoshiLabs. This wallet supports almost all cryptocurrencies. Save 25 euros by buying this bundle.
What's included?
Trezor T
USB Cable (USB-C to USB-A)
2x recovery sheet
Handy storage box
2 titanium plates (2x 24 words or 4x 12 words)
Hammer
Rubber anvil
Letters (A/Z)
Letter holder 
Earplugs