CRYPTOTAG - Thor Starter kit
Official CRYPTOTAG reseller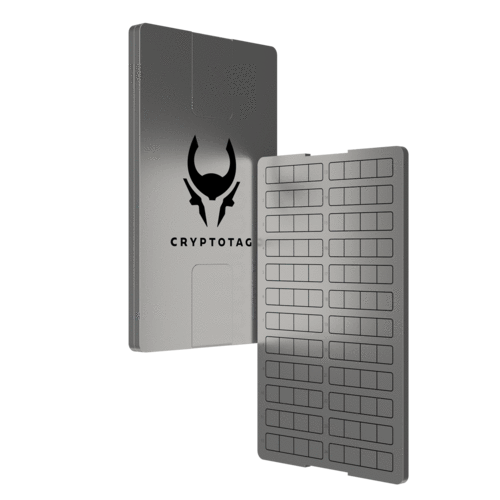 ✓ Multilingual manuals
✓ Premium customer service
Product description
The CRYPTOTAG is the most secure way to store the recovery seed of your hardware wallet or cryptocurrency. With a simple hammer stroke you save the 24 (or 12) words of your Ledger or TREZOR forever in pure titanium. Everything you need to engrave your CRYPTOTAG is included.

Why use CRYPTOTAG? On just one piece of paper your recovery seed is vulnerable. If a fire breaks out or a flood occurs, you will lose your power. The CRYPTOTAG, on the other hand, is extremely heat resistant and can withstand temperatures up to 1665°C. Protect your crypto in the ultimate way with this rock-solid product from Dutch soil.
Supplied as standard:
Handy storage box
2 titanium plates (2x 24 words or 4x 12 words)
Hammer
Rubber anvil
Letters (A/Z)
Letter holder 
Earplugs
Do you need more titanium plates? Check out the Thor Expansion kit here.
View our return policy